IMPERIAL GOLD PROJECT
Low Capital, High Return Project With District-Scale Exploration
KORE owns 100% of the Mesquite-Imperial-Picacho District which consists approximately 31,000 acres of claims capturing the entire 28-kilometer trend from the operating Mesquite mine (Equinox Gold - TSX:EQX) to the closed Picacho mine and including KORE's Imperial project. In the District, gold is hosted in local fault structures related to a series of regional faults connecting the known District deposits. Those three District deposits (Mesquite, Imperial and Picacho) were discovered in exposed outcrops and from placer workings. The rest of the District is covered by alluvium and has never been systematically explored.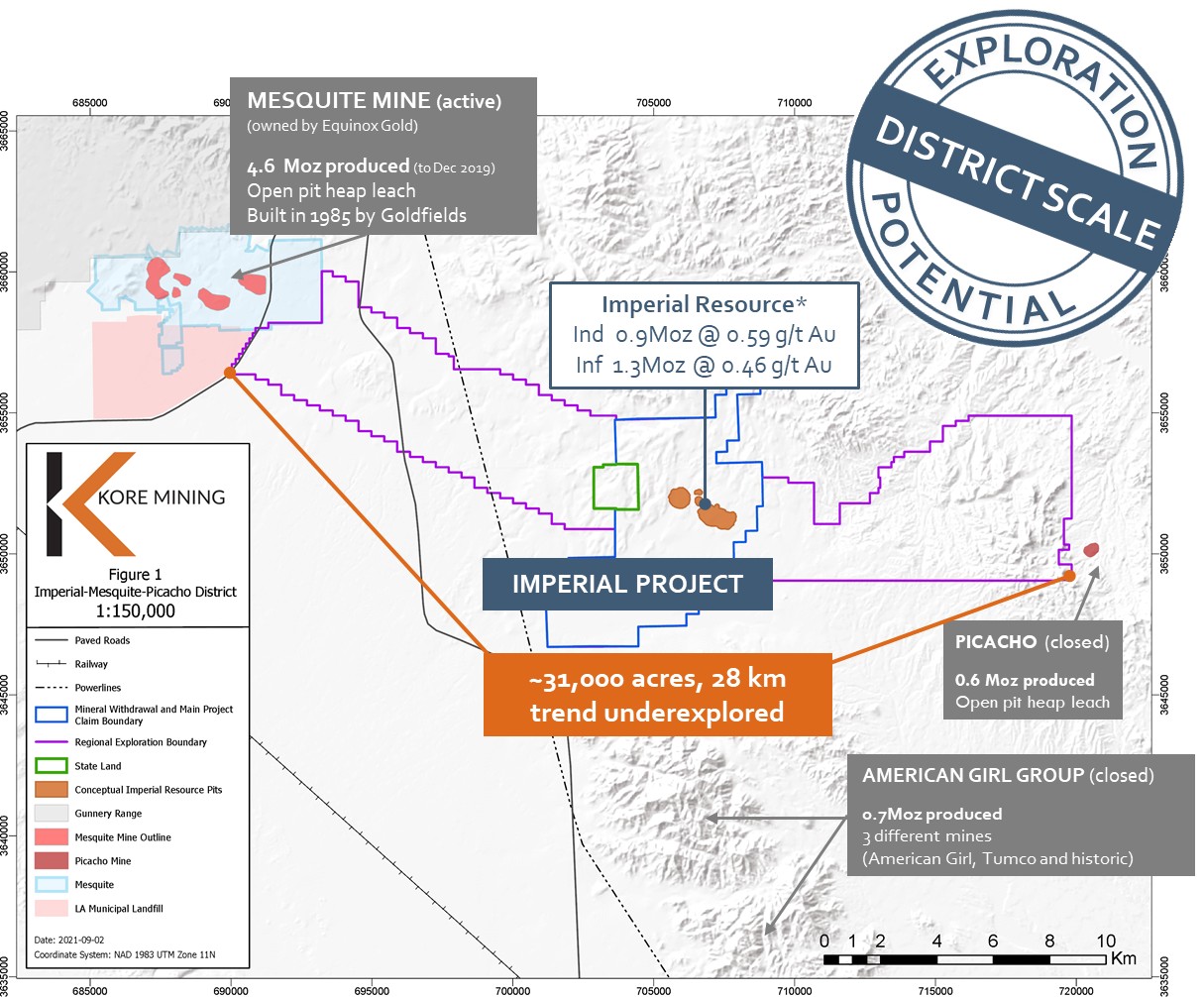 "A Preliminary Economic Assessment is preliminary in nature, includes inferred mineral resources that are considered too speculative geologically to have the economic considerations applied to them that would enable them to be categorized as mineral reserves, and there is no certainty that the Preliminary Economic Assessment(s) will be realized. Mineral resources that are not mineral reserves do not have demonstrated economic viability." (the "Minimum Cautionary Language")
*Preliminary Economic Assessment – Technical Report; Imperial Gold Project California, USA", effective date: April 6, 2020; amended issue date: June 10, 2021 by Terre Lane and Todd Harvey of Global Resource Engineering Ltd., and Glen Cole of SRK Consulting (Canada) Inc.
Production numbers from company websites and public filings. KORE does not consider the historic production or economic realization at these mines as indicative of mineralization at Imperial or the economics of any such mineralization.
The Mesquite-Imperial-Picacho District centers on KORE's Imperial project. Imperial is a structurally controlled intermediate sulfidation epithermal gold deposit. The 100% oxide gold deposit is currently defined at 2.44 kilometer long and up to 0.75 kilometer wide and is open both along strike and downdip. It is hosted in a shallowly southwest dipping, amphibolite grade metamorphic rock suite along a west-northwest trending low-angle regional thrust fault system which controls the regional geometry of mineralization. East-west striking, post-mineralization normal faults control the property scale geometry of mineralization. Geophysical characterization of the deposit and regional controlling structures is an essential component of exploration for additional resources.
Imperial PEA
Imperial has a mineral resource estimate and a positive preliminary economic assessment (effective April 6, 2020) with the following highlights:
Robust economics: US$ 343 million NPV5% post-tax with 44% IRR at US$ 1,450 per ounce gold
Low capital intensity project with only US$ 143 million pre-production capital cost
Average 146,000 ounces gold per year over 8 years for 1.2 million ounces total production
Technically simple project: shallow open pit, run-of-mine heap leach with existing infrastructure
Value enhancement through Mesquite-Imperial-Picacho District exploration and resource expansion
The Company's NI 43-101 compliant resource and preliminary economic assessment is titled "Preliminary Economic Assessment – Technical Report Imperial Gold Project" effective as of April 6, 2020 and revised and amended on June 10, 2021, prepared by Terre Lane and Todd Harvey of Global Resource Engineering and Glen Cole of SRK Consulting (Canada) Inc.
To review the complete technical report, click here.
Imperial Exploration Upside
In addition to the existing resource, the District has significant exploration upside. KORE is currently in the process of permitting exploration drilling to test the highest priority exploration targets.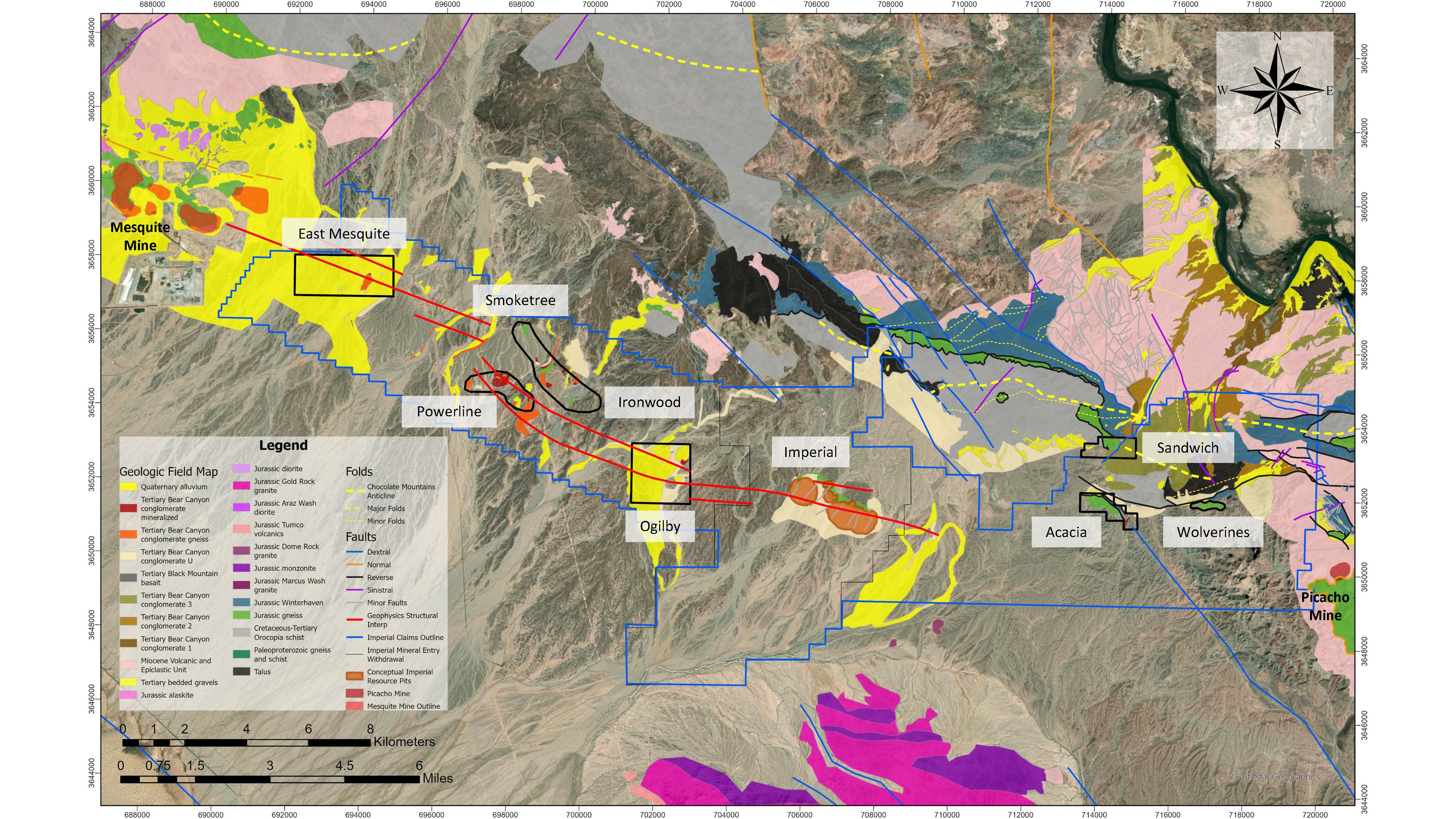 Nine target areas (gold anomalies on structural trend)
Ongoing regional stream bed sampling and mapping to generate additional targets
Follow-up soils and dry-washing on priority targets
Drill permitting in progress; expect regional exploration drill permit in H2 2022
Positive Environmental Benefit and Saving Lives
The Imperial Project will generate positive environmental and social impacts from Project "ACES" – A Clean Environment for the Salton Sea. Project ACES is just one of the many long term positive benefits that KORE's Imperial Gold Project will bring to the region.
Part of Imperial project where excess materials are used to benefit local stakeholders
ACES would supply materials required to remediate a major local air pollution problem
Reduced air pollution would bring a positive environmental impact and save the lives of local stakeholders
Imperial Gold Project, including ACES, would leave NO long-term impact to Federal land

Mine backfilled and recontoured to original topography after providing materials to Project ACES
Site vegetation is then rehabilitated to original state
No long-term view scape or land use impacts

Imperial Gold Project's mission is a net positive environmental impact
Read More