LONG VALLEY GOLD and SILVER PROJECT
High Return Project with Exploration Growth
Long Valley is KORE's 100% owned epithermal gold and silver project located in Mono County, California. The 15,965 acre land package around the project is district in scale and covers all deep-rooted fault structures of similar genesis to the Hilton Creek fault, the primary 'conduit' for the current Long Valley deposit.
A total of 896 holes have been drilled historically on the Project, the majority being completed by reverse circulation with lesser core, rotary and air track. The current mineral resource estimate is 1,217,000 ounces of Indicated gold and 456,000 ounces of Inferred gold from 63.7 million tonnes of 0.58 grams per tonne and 22.0 million tonnes of 0.65 grams per tonne, respectively. The mineral resource consists of oxide, transition and sulphides. The estimate was prepared by Neil Prenn, P.E. of Mine Development Associates with an effective date of September 2, 2020. See the "Preliminary Economic Assessment NI 43-101 Technical Report, Long Valley Project", revised and amended dated June 7, 2021, filed on SEDAR on June 11, 2021 (the "PEA").
The PEA for a shallow, low-strip heap leach project contains the following highlights:
US $273 million NPV5% post-tax with IRR of 48% at US$ 1,600 per ounce gold ;
Significant leverage to gold: US$ 352 million NPV5% at spot US$ 1,800 per ounce gold;
102,000 ounces gold per year average over 7 years mine life;
Shallow open pit, heap leach with nearby infrastructure;
Unmodelled silver potential from metallurgical test-work; and
Shallow oxide and sulphide feeder exploration potential to further enhance project.
To review the complete technical report, click here.
Long Valley Exploration Upside
The main Long Valley deposit has significant exploration potential in all directions and is open at depth for further growth.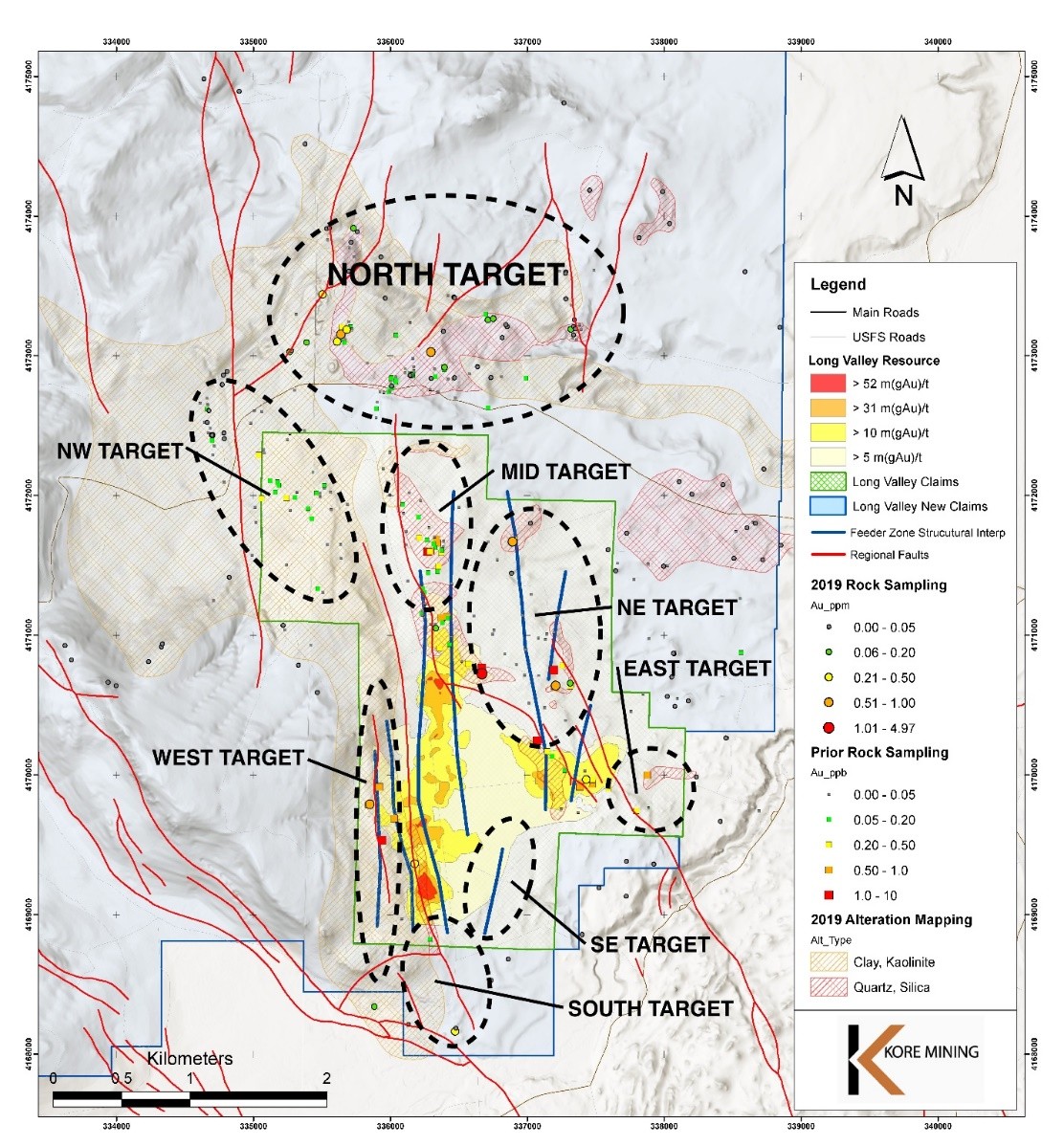 "A Preliminary Economic Assessment is preliminary in nature, includes inferred mineral resources that are considered too speculative geologically to have the economic considerations applied to them that would enable them to be categorized as mineral reserves, and there is no certainty that the Preliminary Economic Assessment(s) will be realized. Mineral resources that are not mineral reserves do not have demonstrated economic viability." (the "Minimum Cautionary Language")
Read More